In a post-COVID-19 climate, many brands are looking for creative ways to drive traffic back in-store as well as lift online sales closer to the high demand many brands saw during lockdowns. Card-linked offers (also known as CLO) can be a powerful tool for advertisers looking to expand their reach and increase sales. In Australia alone, there is over $60B+ being spent annually online and offline using a credit or debit card.

In this article, we cover some of the most noteworthy benefits as well as considerations for advertisers exploring new partnership opportunities in the card-linked offer space.
How card-linked offers work
From a consumer perspective, card-linking is simple and provides a seamless customer experience. The first step is typically for the customer to link their card to an e-wallet, platform, or loyalty provider (which is the most common method). Next the consumer makes a purchase either online or in a physical store using the linked card. Finally, the reward is redeemed typically in the form of cashback or loyalty points.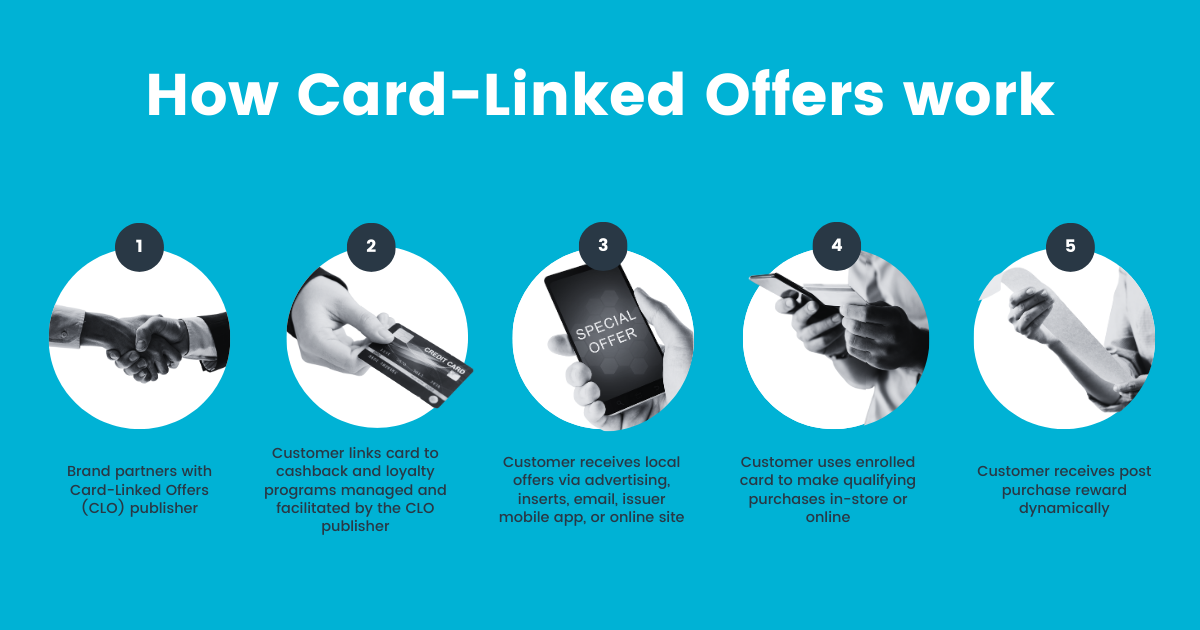 From a technical perspective, CLO partnerships can take a few different forms. In some cases, the credit card provider is the affiliate partner, and in other relationships, there is a 3rd party technology provider and/or affiliate partner who is plugged into multiple card suppliers (such as Visa and Mastercard). In either scenario, the partnership dynamic is the same. Transaction data is captured and added to the Commission Factory platform, where the affiliate commission is paid to the partner, who then passes along the reward to the end consumer (similarly to cashback and loyalty partners).

As with any marketing tool, there are benefits and considerations keep in mind when using card-linked offers in your marketing strategy.


Benefits of card-linked offers in affiliate marketing
Reach – Incorporating CLO can provide extensive reach to a wide base of customers. For example, there are 13.3M credit cards in Australia plus 39M debit cards, and the US market has over 551M credit cards in use. The exact reach will vary between CLO partners but is certainly worth exploring.
Targeting – Because CLO is typically facilitated by large fintech and credit card companies, they have access to a substantial amount of transactional data, which can create unique targeting capabilities historically untapped in the affiliate channel. By creating a targeted offer specific to the brand's objectives, such as new customer acquisition or increased average order value (AOV), Advertisers can rest assured knowing they are achieving incremental sales through this channel.
Brand Alignment – Many CLO partners are large, reputable, and well-established financial institutions or airlines. Small-medium size brands especially could benefit from the brand alignment and consumer trust of a CLO partner such as Qantas, Mastercard, and AMEX.
Seamless Customer Experience – Customers appreciate having a pleasant shopping experience that is easy and convenient for them without added barriers. CLO is just as simple as traditional affiliate partnerships, where the tracking and reward attribution happens in the back end without the customer needing to take many extra steps to get the incentive they were pursuing within their purchase journey.


Challenges of Card-linked Offers in Affiliate Marketing
Attribution – Offline transactions sit outside the scope of online tracking solutions and thus can be a challenge to determine which partner should be attributed for the sale. Some of the CLO partners operate a network of loyalty programs under one umbrella, and thus, working with a partner like PokitPal, Mastercard, or Loyalty Now could provide the reach Advertisers are after while also minimising offline transaction attribution challenges that may exist outside of the online last click model.
Possibility of Duplication – While CLO has been around for quite some time, it's only in the last handful of years that the trend has started integrating into the affiliate channel. An industry-wide challenge to take into consideration is the possible duplication of transactions across partners and channels which could result in higher costs for the same transaction. This potential challenge can be minimised by working with only one or a small group of CLO partners who have differing customer demographics. Additionally, an Advertiser could run specific and different target campaigns across their CLO partners to maximise reach and return on investment (ROI).
Setup – The setup process can vary between CLO partners and might involve gathering physical store IDs or other data points to set up the partnership and campaign. Additionally, there can be manual work involved to periodically upload the transactional data to the tracking platform being utilised. However, Commission Factory has streamlined this step by removing the need for manual uploads by integrating an API connection with some CLO partners allowing the data to flow dynamically into the platform.
Integrating Card Linking in the Affiliate Channel
Like most affiliate partnerships, CLO providers typically work on a CPA model and fit seamlessly into existing affiliate programs. By utilising CLO, Advertisers can achieve an omnichannel strategy but use their affiliate partners' digital marketing channels to drive traffic in-store and online. The benefit is it's a cost-effective strategy that is relatively simple to set up with some existing affiliate partners. Not only does CLO create a seamless customer experience, as discussed earlier, but there is also no staff training needed for the in-store personnel working at the checkout.

Reference: Australian Credit Card and Debit Card Statistics 2023 (finder.com.au)


---
If you're considering launching a CLO partnership(s), we would recommend reading our next guide highlighting some of the many CLO partnerships available through Commission Factory and also checking out the Placements Marketplace for new campaign opportunities available, alternatively to get in contact with us for further information.