When we think of monetisation on social media, Pinterest does not usually come front of mind. In this guide we showcase how this platform has been underestimated in the affiliate marketing channel and how advertisers and affiliates can take advantage of it.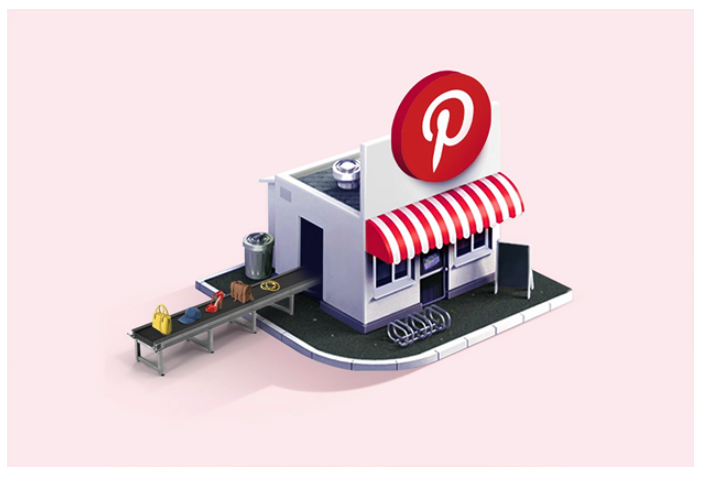 What is Pinterest?
Pinterest has been a part of the internet since 2010 and has grown to more than 335 million monthly active users worldwide.¹ Last year, Pinterest overtook Snapchat as the third-biggest social network in the US, earning $1.14 billion in revenue.¹
Pinterest is a social media and image sharing platform populated by user generated 'Pin' posts. Pinterest is generally used as a productivity and planning tool for users to search for inspiration and ideas for projects, events, holidays, fashion and more.
Each user has a personalised home feed curated based on their 'boards', recent activity and favourite topics. Pinners (Pinterest's branded term for their users) simply utilise the search functionality or take advantage of the visual search lens tool for a more bespoke discovery experience. From the cornucopia of Pin results, users can interact with the Pins by saving them to their own unique 'Board' curation, go to the full website source, follow the Pinner, comment on the Pin post, share it and more.
With over two billion searches per month, 600 million of which are visual searches¹, it is no surprise that Pinterest has quite the influence when it comes to its audience's shopping behaviours and journeys.
The Pinterest effect
As of 2019, Pinterest has greatly impacted buyer journeys as a result of the personalised recommendations and inspiration it provides. This can be seen in one of Pinterest's surveys, where 70% of surveyed Pinners discovered new products on Pinterest.²
Pinners generally give aesthetics significant attention and importance when creating Pins. In fact, 85% of Pinners put visuals first when shopping for apparel and furniture.¹ With visual search generally on the rise3, advertisers can take advantage of Pinterest's endless image feed to share visual content that is attractive to users, boosting their brand awareness along the way and moving them down the marketing funnel.
This is exactly what Pinterest aims to achieve, where "the natural progression of Pinners' discovery journey—from inspiration, to planning, to action—takes them down the full purchasing funnel."4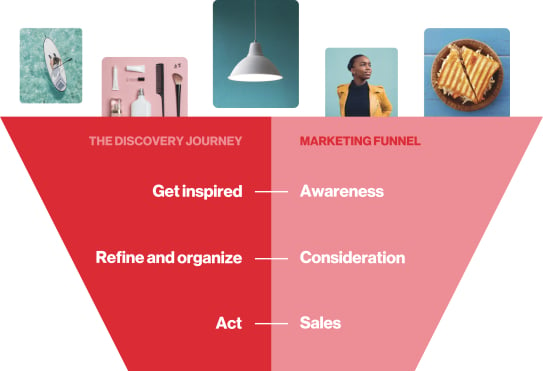 (Image Source: United States Security and Exchange Commission - Pinterest, Inc.)
Shopping is a top priority for 48% of Pinterest users, the highest priority after viewing photos (57%).¹ This percentage is much higher than that of other social media giants like Facebook, where shopping ranks as the seventh most popular activity at 14%, while Instagram, Snapchat and Twitter see similar statistics.¹
In short, Pinterest is more search engine than social network. The platform's subconscious effect on buyer habits is what makes it effective. However, it is also the reason Pinterest has been underestimated in the advertising and affiliate industry.
To combat this and keep up with the times, Pinterest has incorporated a new feature that focuses on the visual trends that affect shopping journeys. Pinterest has recently released its Idea Pin feature, short videos (up to 60 seconds per page and 20 total pages per pin) that users can record, edit and publish to the platform.
Why this feature is important is because it now allows creators to tag products and run brand-sponsored content. Idea Pins can increase audience engagement by including detailed pages to find more information on the content, such as recipe instructions, DIY steps, and more.
Pinterest is a subtle yet highly effective platform which more advertisers and affiliates should include in their marketing strategies. Affiliates and advertisers across industries should consider using Pinterest to build brand awareness, increase online traffic, and drive sales.
Since the platform isn't limited to advertisers with "top-of-funnel" goals or to those seeking conversions, advertisers can use Pinterest to provide value at each step of the journey.
How can advertisers leverage Pinterest?
Pinterest offers a variety of options for advertisers to grow their traffic, reach new customers, and increase conversions.
Advertisers can promote themselves on Pinterest via Promoted Pins, which allows them to be targeted to specific demographics of their choosing. Product Pins, Shop the Look Pins and Video Pins are other options advertisers have to promote themselves on Pinterest.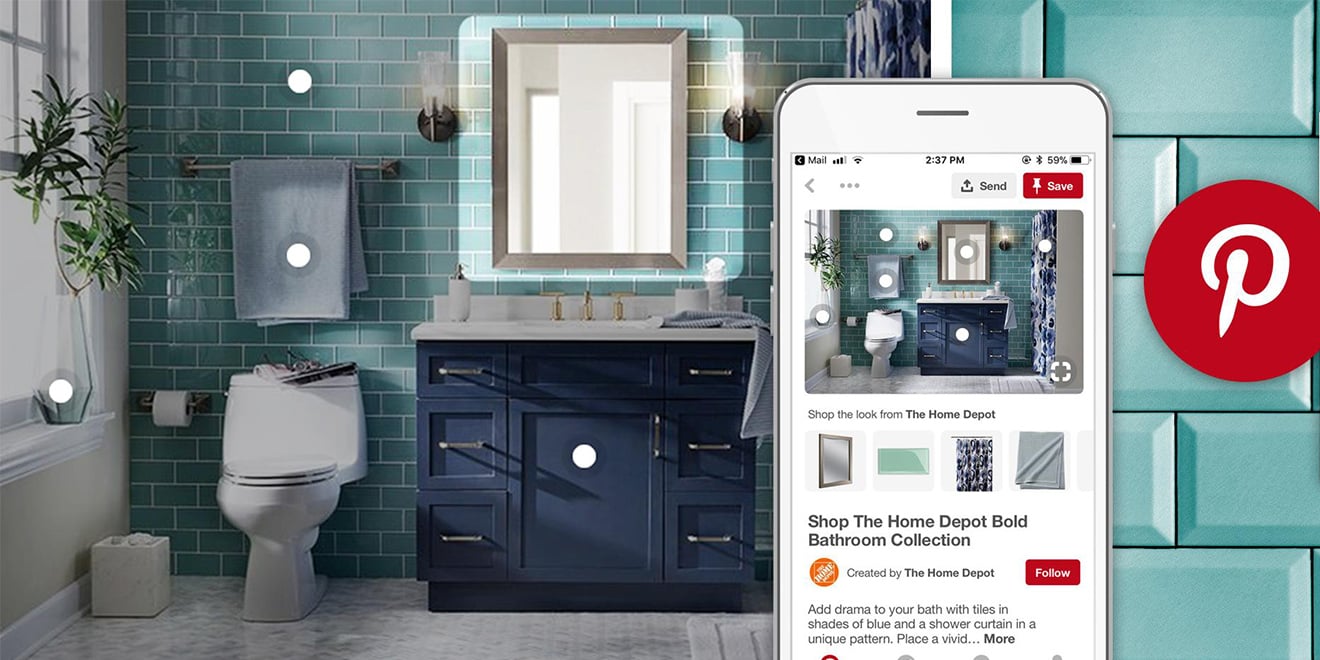 (Image Source: Home Depot is Building out Visual Discovery and Shopping on Pinterest)
A study by Pinterest shows that "pins from brands make it easier to find new products and make the best decision."² 90% of surveyed Pinners say that Pinterest helps them to decide what to purchase and 66% actually buy something after seeing a brand's Pins. Many consumers check Pinterest in-store to look back at their product wishlists.²
Businesses can add the 'Shop' tab to their profile which empowers users to discover products and create an 'act now' mindset. These products can also be discovered via Pinterest Lens which is capable of identifying more than 2.5 billion home and fashion objects.5
The personalised nature of Pinterest results in users feeling more open-minded and receptive to ads, thus creating a place where consumers are more likely to want to see brand content and be introduced to new products and services.
Business accounts can also tag their products in Idea Pins to lead the user to their Pinterest page. The user can then find more information on the product, click through to the brand website, and complete their shopping journey.
Discovery is an essential part of new customer acquisition, and opening up marketing strategies to include Pinterest can widen an advertiser's reach.
How can publishers leverage Pinterest in affiliate marketing?
As consumers turn to Pinterest to aid in their purchase decisions, it is important for affiliates to leverage this opportunity and be a part of the platform's effective marketing funnel.
Affiliates who use Pinterest can be the ones who introduce potential consumers to products/services that they recommend. Using Pinterest as a supplemental traffic source alongside promotional efforts is a great way for affiliates to grow their online presence, social media reach and audience base. In turn, this will also increase traffic, clicks and conversions.
Creating an SEO strategy when promoting with Pinterest is valuable because as much of a social media platform as it is, Pinterest also acts like its own unique version of a search engine. By taking advantage of Pinterest's top 100 trends and targeting guide, affiliates can thoughtfully plan out their content based on trending keywords.
Of more than two billion monthly searches, Pinterest has mentioned that "97% are unbranded, making Pinterest a place where people are open to hearing from brands they have not considered before."⁵
Therefore, by focusing on incorporating trending keywords, creating unique yet relevant descriptions, saving Pins to related boards and pinning consistently, marketers can use Pinterest to develop fresh content and connect with their audiences in new ways.
Tips for affiliate marketing on Pinterest
Optimising Pinterest board to showcase affiliate brands and products
Affiliates should optimise their Pinterest board for topics their target audience would enjoy. Starting with keyword research to see which topics are relevant, affiliates should name their boards strategically, finally adding the pins that make sense for those boards.
Before affiliates start adding pins with their affiliate links, they should make sure the boards on their Pinterest profile share a cohesive, consistent look that represents the brands they are promoting.
Pinterest is a visual platform, so ensuring the overall look of an affiliate's Pinterest presence lets users know what the brands an affiliate is promoting are about, without them having to do much additional research themselves.
For example, Renee Hahnel of Renee Roaming is an author, blogger, and travel writer. Visiting her Pinterest page, it is clear her brand positioning is around adventure, travel inspiration, and content creation.
2. Utilise Pinterest's new Idea Pins feature

Content creators can take advantage of the new Ideas Pins feature on Pinterest to increase their audience engagement and search result features on the platform. Creators can request access to Idea Pins here and understand more about the feature by viewing Pinterest's guide here.

Idea Pins enable creators to bridge the gap between themselves and their audience, adding a more personal touch to their content. This in turn builds trust and loyalty with their audience from the use of storytelling that naturally comes from video content.
3. Adding affiliate links on Pinterest
Affiliates looking to get started can add Pinterest as a traffic source to their Commission Factory account by following our detailed Help Centre guide here.
Affiliates can then include their affiliate link in each Pinterest board to direct their audience to the advertiser's website.
In order for affiliates to share their affiliate links, they will need images to pin. Some brands will provide graphics, but affiliates can also take advantage of design tools like Canva to create their own.
Affiliates should start by choosing the products they want to share and deciding which boards they will pin them to. After pinning the products, affiliates should click the 'Edit' button on the pin and replace the original link in the website box with their affiliate link.
Affiliates should make sure to save the changes and repeat the same steps for any other products they want to share.
Pinterest is an already simple and easy social media platform to use, however, affiliates can use tools like Later or Tailwind to help automate the process of managing and scheduling Pins.
4. Increasing exposure to affiliate links
To get the most exposure to their pins, affiliates should create 3-5 different graphics for each affiliate offer and post one of each graphic to each board gradually. Affiliates should also brand their content with a certain look so that their Pinterest audience will begin to recognise their pins.
Once affiliates have pinned their graphics with their affiliate link, it's important they use SEO research to write a keyword-rich description. Affiliates should also keep repinning their pins using the different graphics they made for each one.
Once all affiliate links have been added correctly, affiliates can take advantage of promoted pins to get more exposure for their affiliate pins. See Pinterest's Ads Overview to learn more about promoting pins.
Another easy way for affiliates to drive traffic to boards with affiliate pins is to share them on other social platforms.
5. Building an online audience in an affiliate's niche
Similarly to Instagram or any other social network, affiliates need to build a following that drives traffic to their account.
Affiliates should maintain an active presence and pin others' pins, particularly those in the affiliate's target audience. Once an affiliate has established a Pinterest account with enough followers and engagement, the affiliate will have more opportunities to promote brands' products.
6. Utilising SEO strategies for greater reach on Pinterest
Affiliates should remember that Pinterest is not just another social media network, but that it functions like a search engine. And, when treating Pinterest like a search engine, affiliates have to start thinking about keywords and SEO.
Affiliates should create a compelling "About" profile, using keywords they expect searchers to use. They can then add SEO strategies to their pins by adding keywords and links in the descriptions. Affiliates should try to incorporate keywords as organically as possible without keyword stuffing.
7. Using Pinterest without a Blog
One of the most asked questions about Pinterest is, "Can you use affiliate links on Pinterest without a blog?"
Yes, you can. However, as is the case with most social media sites, you cannot expect to reap the benefits if you do not have a strategy or a strong presence. If you're inconsistently posting affiliate links on your personal boards without cohesive branding and subsequent engagement, it will be challenging for affiliates to gain significant traction.
That's why establishing affiliate niches is essential to growing and leveraging Pinterest as a platform for affiliate marketing.
Examples of successful Pinterest niches include:
Food & Recipes
Kids & Parenting
Home Decor
Fashion
Travel
Health & Fitness
Hair & Beauty
Art & Design
Disclosing affiliate links on Pinterest
Once affiliates have added product pins to their Pinterest boards, they must include a disclosure. It doesn't matter if the product is digital or physical — if the affiliate has the potential to earn anything from a sale or click, they must disclose if it's an affiliate link.
Affiliates should always use #ad or #spon as per legal requirements. To avoid potential legal difficulties, Pinterest mandates that affiliates should meet any country-specific advertising guidelines such as the Australian ACCC / American FTC disclosure requirements (or equivalent in your country).
It is also the affiliate's responsibility to make sure people will see and understand the disclosure. To disclose affiliate links on Pinterest, affiliates write their disclosure in the description of the pin. The disclosure should generally be placed at the end of the description section.
Since Pinterest pins can remain relevant and searchable for months or years, it's best that affiliates write full descriptions for each one. Affiliates may find greater success focusing on fewer pins while utilising compelling copy and relevant keyword terms rather than creating many pins without a cohesive marketing strategy.
Once an affiliate has created a pin and added their affiliate link, it's easy to add a quick disclosure by simply writing "affiliate link" in quotations or brackets [affiliate link] or parenthesis (affiliate link) or even a hashtag #affiliatelink.
If the affiliate doesn't want to use the terms affiliate link repeatedly, here are some other ideas:
Ad
Advertisement
Sponsored
Commissions Earned
Partner
To learn more about disclosing affiliate links on Pinterest, read the Disclosures 101 Guidebook from the FTC.
What affiliates should avoid doing on Pinterest
As well as Pinterest's disclosure requirements, affiliates should be aware of the following affiliate-specific guidelines.
Adhere to Pinterest's

Paid Partnership guidelines

.
Produce original affiliate content that adds unique value for users. Follow

creative best

practices creating visually compelling content that tells a good story.
Only operate one, authentic Pinterest account. For users to understand who is promoting content, Pinterest recommends that no more than one advertiser can be managed on a single account and this should not be switched over to another advertiser on the same account.
Be transparent about the affiliate nature of any content. Avoid any shortened or redirected URLs that hide the destination domain of affiliate links.
Avoid attempts to manipulate the Pinterest algorithm. That includes asking other Pinterest users to save or create pins with the affiliate links or producing a large or repetitive number of pins with affiliate links.
Follow Pinterest's

spam policy

and use affiliate links in moderation.
Final Thoughts
Pinterest has been subtly influencing purchasing behaviours since 2010. Humans are visual creatures, and Pinterest has tapped into the growing visual search trend by empowering users to easily find inspiration and become engrossed in the sea of Pins.
Advertisers and affiliates should make the most of Pinterest and incorporate it into their marketing strategy as the statistics have proven that the platform is highly effective at guiding users down the marketing funnel.
Studies show that Pinterest is going to continue growing and remain one of the top social media platforms and leaders in visual search.1
Sources